2019 Chinese National Day Holiday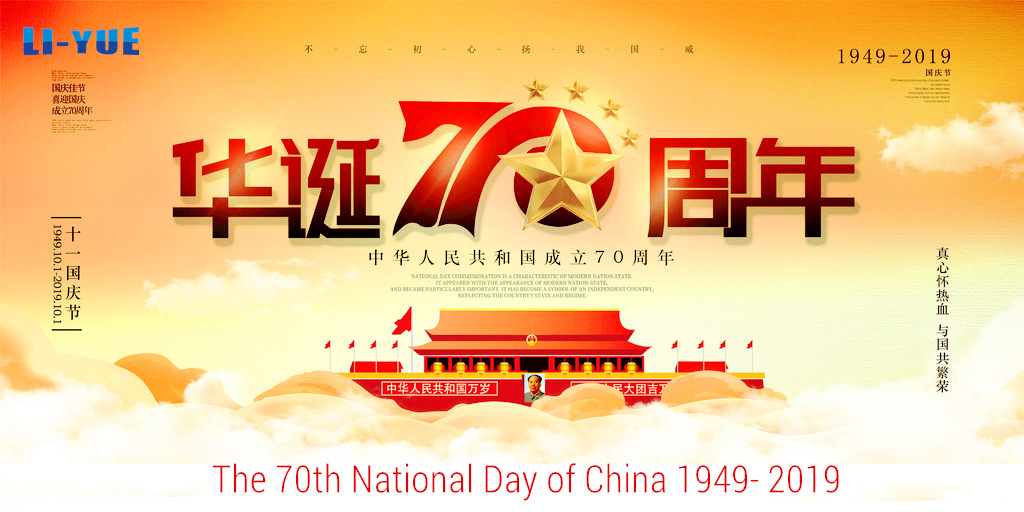 Our company will be closed from 1st to 4th Oct, 2019 to celebrate our National Day.
Sorry for anything inconvenient to you and please fell free to contact us by mail when you have any questions.
—————————————————————————————————————————–
Sun.        Mon.        Tue.       Wed.      Thur.       Fri.       Sat.       Sun.      Mon.
30              1               2               3              4               5            6             7             8
Open      Close       Close     Close      Close       Close     Close   Close   Open
—————————————————————————————————————————–
Happy National Day.
History of the modern National Day in China
On October 1, 1949, Mao Zedong declared the formation of the People's Republic of China after Chiang Kai-Shek and his Nationalist forces were driven out of of mainland China. Ever since then, the first day of October has been a day of patriotism and national celebration. The holiday is held annually in Hong Kong, Macau, and mainland China.
The Celebration
The first seven days of October are referred to as the Golden Week. This is a time of travel and leisure that is celebrated differently in various parts of China. People in cities often travel to rural areas to relax and enjoy the quiet surroundings. People from urban areas also travel to other cities throughout China to take part in celebrations. Beijing is the center of the largest National Day activities. Each year, a large National Day celebration is held in Beijing's Tiananmen Square.
The activities of this celebration vary depending on the year. On five and ten year intervals, a parade and military review are held. The events on five year intervals are impressive, but ten year interval celebrations are much larger. During each parade, the president of China leads in a car while a massive formation of Chinese soldiers follows behind him on foot and in vehicles. This is meant to celebrate the accomplishment of the People's Republic of China existence for another decade.
Beijing's National Day festivals are filled with military performances, food vendors, live music, and various other activities. In Beijing and other cities, musical and dance concerts are held to celebrate National Day. Traditional styles of music are presented, but Chinese pop and rock performers also demonstrate their talents on this day. Crafts, painting, and a range of other activities can be enjoyed by people of various ages.
On the evening of National Day, a grand and elaborate fireworks demonstration is performed. This fireworks show is sanctioned by the Chinese government and some of the highest quality rockets and explosives are used to fill the sky with sparkling colors of gold and red.
In addition to patriotic celebrations, National Day in China is also a time for people to enjoy being with their families. Family members of all ages will often use this as an opportunity to travel to a central location to reconnect after months of working. This helps eliminate the stress of work and helps make sure that families remain close as people pursue their own goals.
Although National Day is centered around patriotism and China's history, National Day is also a time of shopping. Many companies offer very large discounts on products during Golden Week, so people should put a bit of money to the side and use this as an opportunity to purchase some of the things that have been on their wish lists for a while. Technology and clothing are among the most common kinds of items to have discounts.
One of the most popular festivals for celebrating National Day is the Flower Bed festival that occurs in Beijing. The Flower Bed festival is known for its elaborate displays and flower arrangements. Visitors of this festival often walk around to enjoy the weather while looking at the vibrant colors of some beautiful flower beds.