CustomerChinese 10 Tons Truck Crane Specification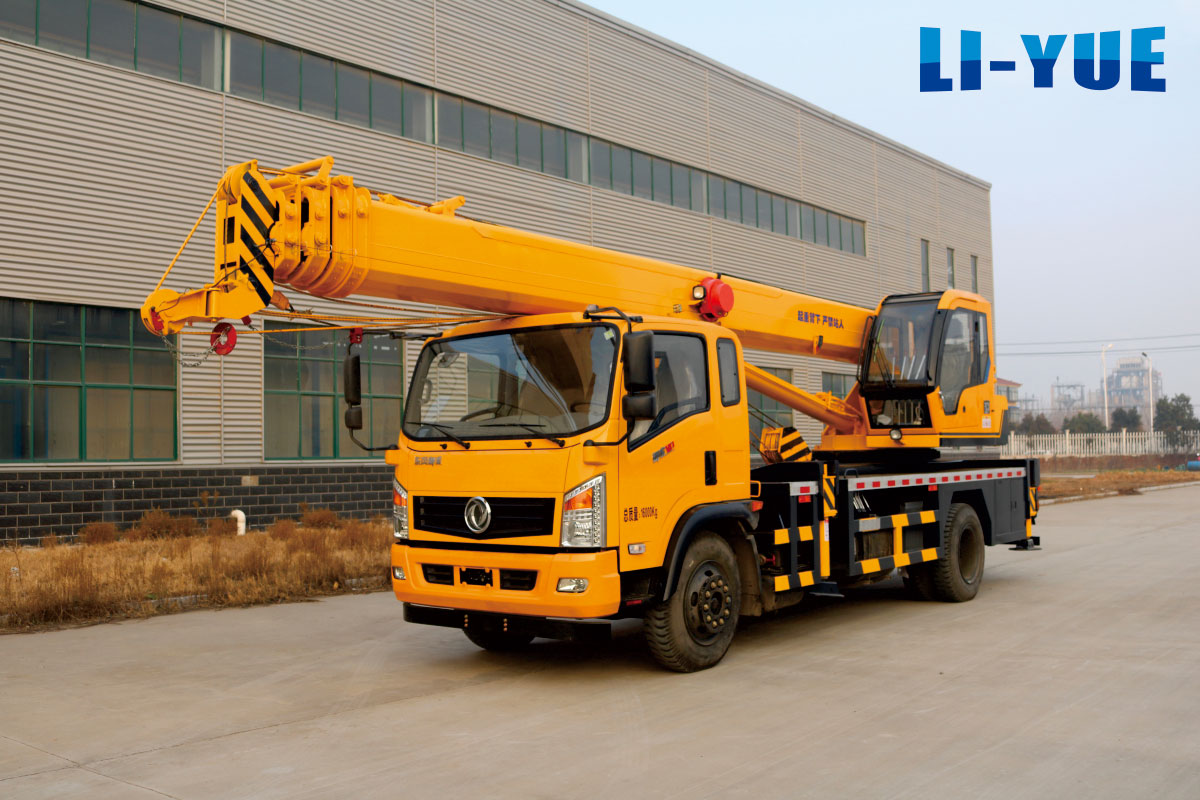 10 Tons Truck Mounted Crane Introduction:
LIYUE 10 tons truck crane can be mounted on Euro 5 Dongfeng/ Dayun/ WAW chassis.
LIYUE 10 tons mobile crane max. Lifting height is 32m, with 2 types power, truck and electricity.
Stable, safe, efficient, bilateral operation, the industry's first king of 10 tons of crane performance, the leader of the Chinese domestic 10 tons of cranes.
10 Tons Truck Crane Advantage:
◆ Crane Boom: LIYUE 10 Tons truck crane adapted BS700 high-strength steel, strong rigidity, light weight boom is safe and reliable. the full arm height can reach 32 meters.
◆ Crane Beam: Box-type girders, strong bearing capacity, higher safety, and improved service life.
◆Liquid Motor: Jinjiang Lite multi-way valve hydraulic system, powerful power, lifting performance is greatly improved.
◆ Hydraulic Pump: Three pump confluence technology to improve stability, compound operation is more stable, and operation is more coordinated.
◆ Torque Limiter: Improve the safety of the whole truck crane, limit the overload protection, and warn when the action reaches the limit value to prevent the vehicle from tipping over.
◆ Mobile Counterweight: The crane counterweight can be moved, the use is flexible, the work efficiency is high, and the working range is wide.
◆ Crane Operating Cab: Beautiful streamline, spacious and bright field of view, built-in adjustable seat safe and comfortable
◆The plate cutting adopts laser cutting, which has high precision and beautiful appearance. The structural parts are painted by blasting and rusting to improve the life of the paint and make it more beautiful.
Chinese LIYUE 10 Tons Truck Crane Main Specification:
◆ Forward/ Backward Extension (mm): 2205/95; Mobile crane wheelbase is 4200mm.
◆ Side protection material: Q235, bolt connection.
◆ Rear protective material: Q235. Connection mode is welding
◆ The size of rear protection plate section is 105 *50mm.
◆ The truck crane clearance is 430 mm.
◆ Adapted Shaanxi Fast Gearbox.
◆ The crane boom height is 5 sections * 32 meters.
◆ 1.3m external teeth slewing bearing.
◆ Crane vice hook adapted 6 tons hoisting, main hook 10 tons hoisting. With 5 outriggers.
◆ Crane Overall Size: 10180*2350*3300mm.
◆ Crane Engine: Weichai 132 HP, Euro 5 emission standard.
◆ Truck Crane Total Mass: 14055 kg.